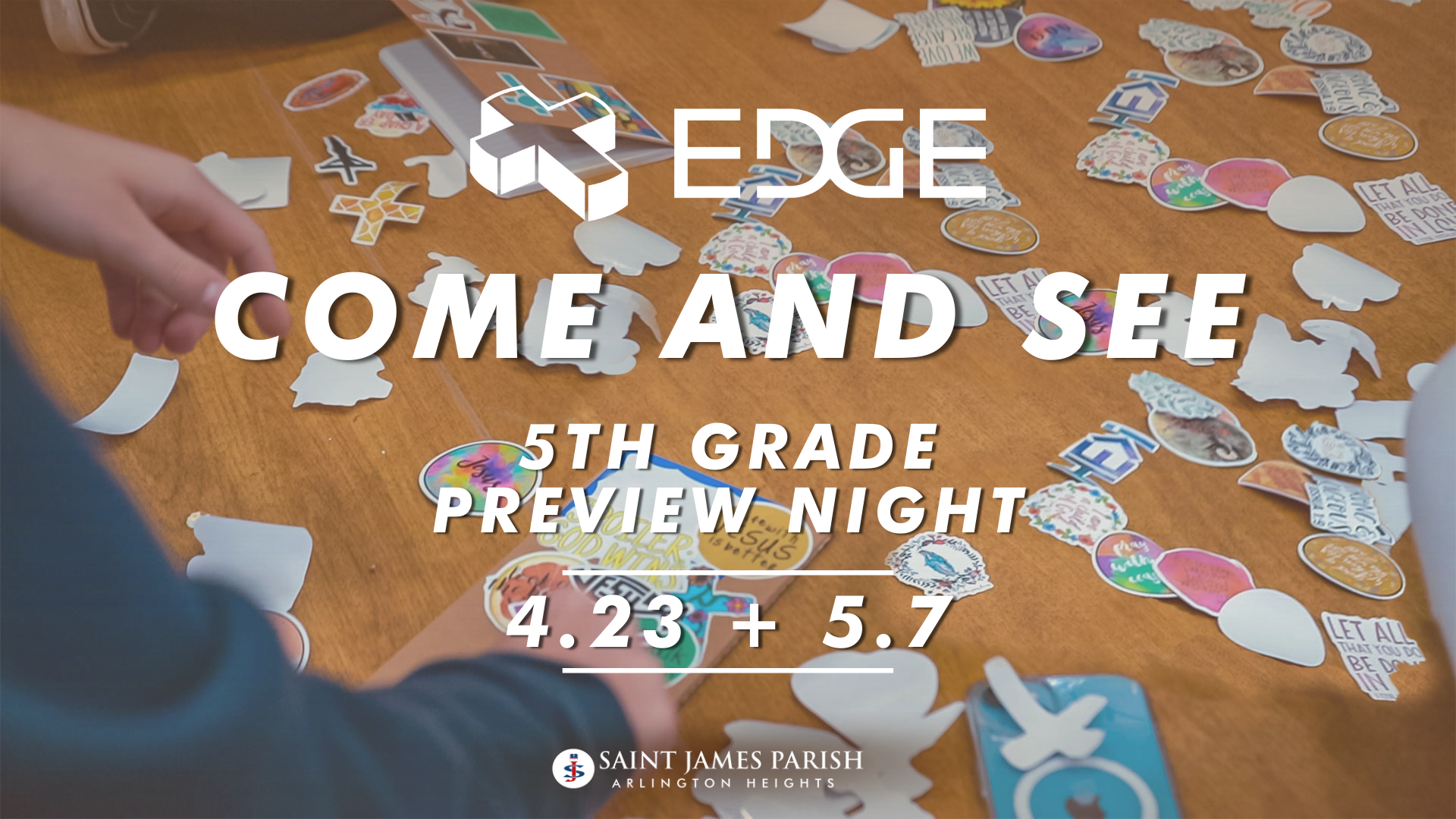 All 5th graders come experience EDGE at St. James
At St. James, our Confirmation Preparation is from 6th-8th grade. Youth will receive the Sacrament of Confirmation in 8th grade. Middle school is a great time of transition for our young people. They are met with new challenges, changes, and are beginning to mature and become ready to dive deeper into their faith. These 3 years of preparation will give middle school students the best chance at gaining and developing a lifelong relationship with Jesus. The fruit of this program is harvesting! Youth are leaving EDGE with a relationship with Jesus Christ, ways to continue to live their faith out enthusiastically and passionately, and make faith filled friends for the journey! Don't let your youth miss out on this experience.
EDGE Come and See for all current 5th graders 
Who: Any and all current 5th graders
What: Experience EDGE with our current community with games, an inspiring talk, small group discussion, and time of prayer!
When: Sunday, April 23rd and/or Sunday, May 7th  3:00pm-4:30pm
Where: St. James Parish Center (St. James Parish Gym)
Why: Because once they experience EDGE, they will want to keep coming back to learn more about Jesus.
How: Register below.
Note: You do not need to be in RE to sign-up for this event, and friends are welcome to these events as well!
Our Confirmation Preparation structure does look differently than our 1st-5th grade Religious Education. EDGE is our middle school youth ministry and Confirmation Preparation. Over three years, children will be discipled by mentors in a small group and be equipped to become lifelong Catholics living out their faith as missionary disciples.
Please reach out with any questions and/or concerns. I am happy to help.
Courtney Bernhardt
Coordinator of Middle School Youth Ministry
cbernhardt@stjamesah.org      (224) 345-7208