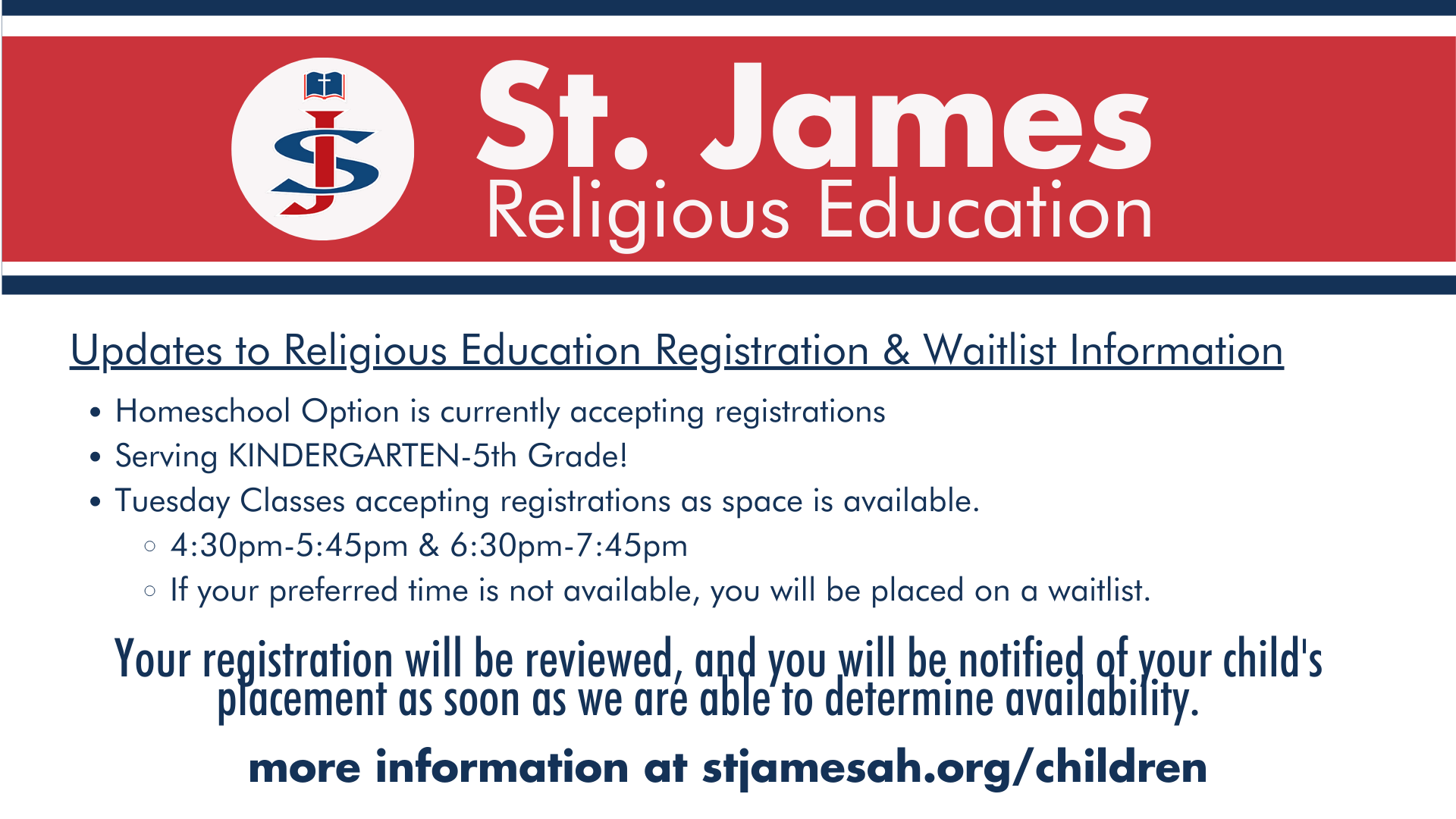 Kindergarten – 5th Grade Religious Education Registration
Now accepting students in kindergarten for the 2023-2024 school year!  Religious Education is our Children's Faith Formation for students in Elementary School (Kindergarten-5th grade) and prepares students for a relationship with Christ. Each year builds upon the last as children learn to walk with Jesus.
The cost is $230 per disciple in the making. Tuition Assistance is available for families in need and Catechists receive free tuition. Please contact Theresa Storto, tstorto@stjamesah.org
Highlights include:
Family Faith Nights & Service Opportunities
We offer unique opportunities for families to grow in faith.  Throughout the year we sponsor Family Faith Nights where the whole family is encouraged to join us for the evening.
Religious Education also offers age-appropriate opportunities to practice their faith in service to others.  Past events have included student-led fundraising for Foundation For Children in Need and Feed My Starving Children.  We look forward to exploring more opportunities for our children to serve and live their faith.
Registration:
Early bird registration is open through June 30th starting at $230 per disciple in the making. July 1st registration increases to $250. Tuition Assistance is available for families in need and Catechist receive free tuition. Please contact Theresa Storto, tstorto@stjamesah.org.
We understand that the classroom model is not ideal for all families.  We offer a homeschool option at the same cost for those who prefer at-home learning.  Home school families are encouraged to attend family faith nights. If you have questions about Children's Faith Formation at St. James, please contact Bethany Larson, blarson@stjamesah.org and she will help you navigate this process.
Open Doors Ministry:
Open Doors provides faith formation for individuals and families with special needs. This includes adaptive programming and inclusion to prepare children in need of accommodations for the Sacraments.
We welcome all learners and seek to offer access to our Faith for everyone.  You can register for Open Doors through the Religious Education Registration Form. If you have any questions contact: Kathryn Coughlin kcoughlin@stjamesah.org
Volunteer Opportunity:
Do you feel called to serve as a classroom catechist?  To volunteer as a hall monitor or other support?  To be an Open Doors Mentor? Do you want to help but are not sure how or in what capacity?  Please contact Bethany Larson to learn more and get connected to our vibrant community of disciples in the making or fill out the form here. All catechists will receive training and ongoing support in the classroom, along with registration fee being waived. We welcome you to the team!
Any questions or concerns, please contact:
Bethany Larson
Coordinator of Religious Education
224-345-7152
blarson@stjamesah.org
or
Theresa Storto
Administrative Assistant
Evangelization and Formation
Direct  224-345-7213
tstorto@stjamesah.org
Religious Education Calendar